Imagine having your phone charge while it's sitting in your pocket or while you hold it in your hand, untethered from the wall. Imagine not having to precisely place your phone on a pad to have it charge. Just imagine not having to even think about charging your phone at all! This is the future that WiWaves' founders, Halston van der Sluys and Cameron Stuart envisioned, and the one they are making a reality with their first product, the Capsule, which is set to ship in November of this year.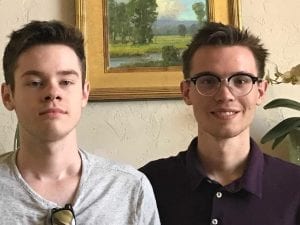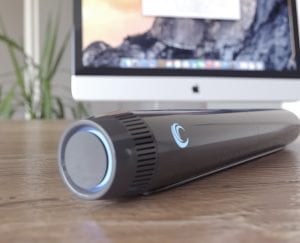 The question that plagued these founders since high school was: 'how is it possible that we have super-computers in our pockets, but still have to deal with a tangle of wires to charge them?' They saw and felt the problem that many of us have: our phones dying because we forgot to charge them the night before. Today, it's not uncommon to see people huddled around charging stations like a watering hole at conferences, events and the airports. Halston and Cameron wanted to finally be untethered from a wall. They didn't want to sit and idly wait for their phones to charge on a charging mat, so they spent the last three years building a better solution.
Halston and Cameron are not strangers to creating such innovative solutions. They have been entrepreneurs since the age of 12, and have previously invented a product in the space with a jacket that could charge your phone on the go. The capsule takes this same principle of effortless and convenient charging from this earlier product, and moves it over the air.
The Capsule itself is designed to be sleek and to seamlessly fit into any environment. As a small unit, it can be mounted to a wall, tucked away in a corner or discreetly placed on a table or desk. In a similar vein, the receivers themselves are small with simple attachments. They mount to the standard jacks of your devices and stick to the back of the device. Because they use standard connections, they will eventually be able to charge just about anything from phones to computers, headphones, and toys.
The units are sold in bundles with several receivers. Bundles are regularly priced at $300 to $350, but are each being offered at $100 less for summer pre-orders. There are also commercial packages available for powering devices in business locations. Pre-orders are currently available via their website.
Beyond the capsule, the WiWaves team has their sights set much further to eventually charge everything in the home, office and beyond. There are countless opportunities for contact-less charging and they plan to take them all on. They also aim build out a system that makes charging more effective and efficient. It is clear that the Capsule is just the beginning.
To make pre-order, go to: http://www.wiwaves.com/residential.html
You can read more about the company at wiwaves.com.
WiWaves is part of the Beta Boom Salt Lake City 2018 Cohort.