Having worked with a number of founders on the earliest stages of their startups, I have seen quite a few promising folks drop out prematurely. It's not that they are not tough enough or that they lack passion, but it seems that many first-time founders are not prepared for how grueling and long the startup journey can be. It's striking how often I see pitch decks that project a startup to reach 100 million users or $5 million in revenue in a year or two.
Although striking, it's not surprising why founders have such unlikely scenarios in mind given how much the media loves to portray nearly overnight successes like Snapchat and Oculus, which raced to a $2 billion exit in just 280 days since its first financing round. The likelihood that a startup will become a unicorn (valued at $1 billion+) is about one in a hundred. It's even rarer that a startup can become a billion-dollar company in less than three years. In fact, the odds are roughly one in ten thousand. Is it any wonder, then, that many founders quit when they are expecting overnight success but arrive at a decade-long Navy Seals Hell Week?
I'm quite certain that simply having a realistic expectation of the journey to come will help founders stay in the game long enough to see the fruits of their labor. In this article, I will outline a roughly average timeline for a software startup. One caveat is that every startup is different and the journey as well as how long it takes can vary wildly from much faster to glacial. The second caveat is that the below journey will likely also vary greatly for different kinds of innovations. For example, a leading hardware technology might require decades of development in a lab before it is ready for commercial sale.
The idea stage
Too often founders are struck with inspiration for a cool new app and jump right into building it themselves or hire someone else to do so. They fail to learn about the needs, constraints, and preferences of their customers and rush to build something that people don't want or need—the most common reason why startups fail. Or they find out after they launch their product that a solution exactly like theirs already exists and has tons of customers and capital to squash them.
It's tedious but necessary to do a thorough job researching and designing your innovation in order to significantly increase your chances of survival. In fact, in a CB insights study, 42% of startups listed "no market need" as the reason they failed. That percentage should be near zero for any startup that does a great job learning about their customers and competition.
The first thing you should do is to study your competition in exacting detail. In most cases, you should be able to list at least a dozen direct and indirect competitors. Use their product, study their marketing and pricing, and learn who are their customers. Learn what are their product's strengths and weaknesses. What do customers laud and what do they complain about?
Once you know your competition like the back of your hand, learn everything you can about your customers. Even if you are have lived the problem you are solving, talk to others to see what solutions they employ as well as what constraints they have that maybe you do not. Watch them use competing products and learn what they love and hate about them, so you can be sure to keep the good parts and improve on the bad ones. Finally, test out some product designs on your target customers before you build anything to make sure that you don't waste time building the wrong things.
This stage can easily take half a year, particularly if you include design and prototype testings. Despite being tedious, however, doing this work can save you years of blazing forward down the wrong path. For more in-depth reading on researching your customers and competition, check out "Want Your Startup to Thrive? Listen to Your Customers" and "Know Thy Competition."
Developing your product
It's true that if you are a talented hacker and have a simple product idea or one that re-packages available platforms into a new product, you can probably throw together a functional prototype over the weekend. However, this is not a relevant scenario for most tech entrepreneurs. Additionally, the real work comes after launching your product. The goal at the earliest stages of your startup journey is to show that your innovation is superior to existing solutions and that people want to use it.
The second most common reason why startups fail is that they run out of money. Given that engineering is usually the largest cost for startups, it should be clear that the name of the game is efficient engineering, and a big part is avoiding wrong turns and dead ends. In other words, you should avoid building things that are poorly designed or superfluous. The more incrementally you can develop your product, the smaller your mistakes should be, and therefore, you will incur less technical debt.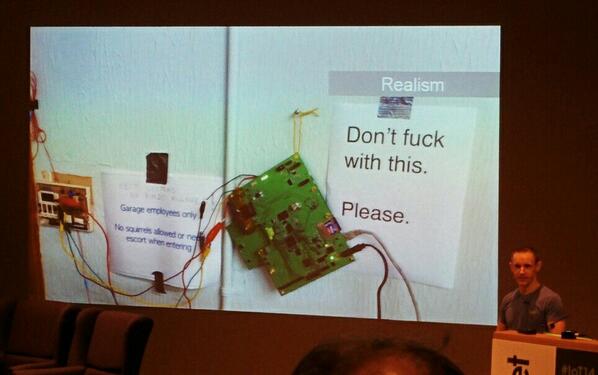 Efficient engineering begins with creating a functional prototype or minimum viable product (MVP). This is particularly attainable in software and is also possible for many hardware products. Pictured above is a prototype of the Nest smart thermostat, which Google acquired for $3.2 billion in 2014. By building in smaller increments and testing, you are more likely to uncover issues earlier and incur less technical debt although this process takes longer than just charning ahead and building a market-ready product from the get-go.
Another common misconception is that once the product is released in the market, the engineering work is done. Nothing could be further from the truth. The work required to test and improve your product is often greater after the initial launch than the work leading up to it. It's true that some products such as hardware require more upfront development before they are ready for distribution, but more often than not, the initial product launch spurs a constant cycle of customer feedback, fixing functional and usability issues, and improving product design. The post-launch optimization phase is important because any present issues create a drag on your customer growth and will likely get in the way of your fundraising.
Depending on the complexity of your product and your engineering resources, it might take from six months to a year just to get to a sound, commercially-ready product. This seems like a lot of time, but I have seen scores of startups take much longer than that to develop a solid product. Of course, if you are ceating a simple app and are a coding whiz, it might take you a lot less time to get it it to a good point. They key is to have a realistic timeline in place and to make sure that you have the resources that it takes to develop a valuable and user-friendly product.
Your first investment round
For many startups, their first significant outside investment will be at the pre-seed or seed rounds. The early-stage investment landscape keeps changing rapidly with both the size of investment increasing as well as the milestones that startups must exceed. However, at the time of writing, a typical pre-seed round is roughly around the $0.5 million mark and can go as low as $50K for accelerators and as high as a $1 million. A pre-seed round is meant to help a startup improve their product and gain meaningful traction.
Meanwhile, seed rounds were historically meant to provide startups with the same goals and capital as pre-seed rounds now provide, but are now more often targeted at startups that have a strong product-market fit and traction and are ready to scale. A median seed round in 2018 was $2.2 million as reported by Susa Ventures. The issue is that it takes a significant amount of time to fine-tune your distribution strategy and get a sufficient number of customers or revenue. It's easy to make up numbers that in your pitch deck that show your startup making $1 million within a year, but the reality is that it often takes months just to get up to a few thousand dollars in monthlyly revenue.
In both the pre-seed and seed stages, the amount of investment that startups are looking to raise is quite significant and often require founders to round up half a dozen or more investors to reach their goal. Not surprisingly raising a pre-seed or seed round can easily take a year and often much longer. A good rule of thumb to follow is to reach out to your target venture capital and angel investors six months before you actually pitch them. Not only that, most investors commit capital to 1-5% of the startups that pitch them, so that means that you will need to speak to dozens of investors before you get enough commitments to fill out your round. Do not underestimate how long it takes to make those connections and have so many investor meetings.
Beating the stage boss
I often tell founders that startups are like video games, and they should think of their journey one level at a time. The goals for a very early-stage startup are really to build a product that people want and raise a seed round. After that point, the goals and challenges shift significantly and you'll have a very different set of worries on your mind. However, even this part of the journey can easily take one to two years from idea to closing your seed round, so make sure that you pace yourself and have the necessary resources to last to the next stage.