Here in the US, the fable of the dropout-turned-tech-billionaire is a familiar one. But it doesn't usually bring to mind a young Chinese woman reinventing her country's foreign-language education system.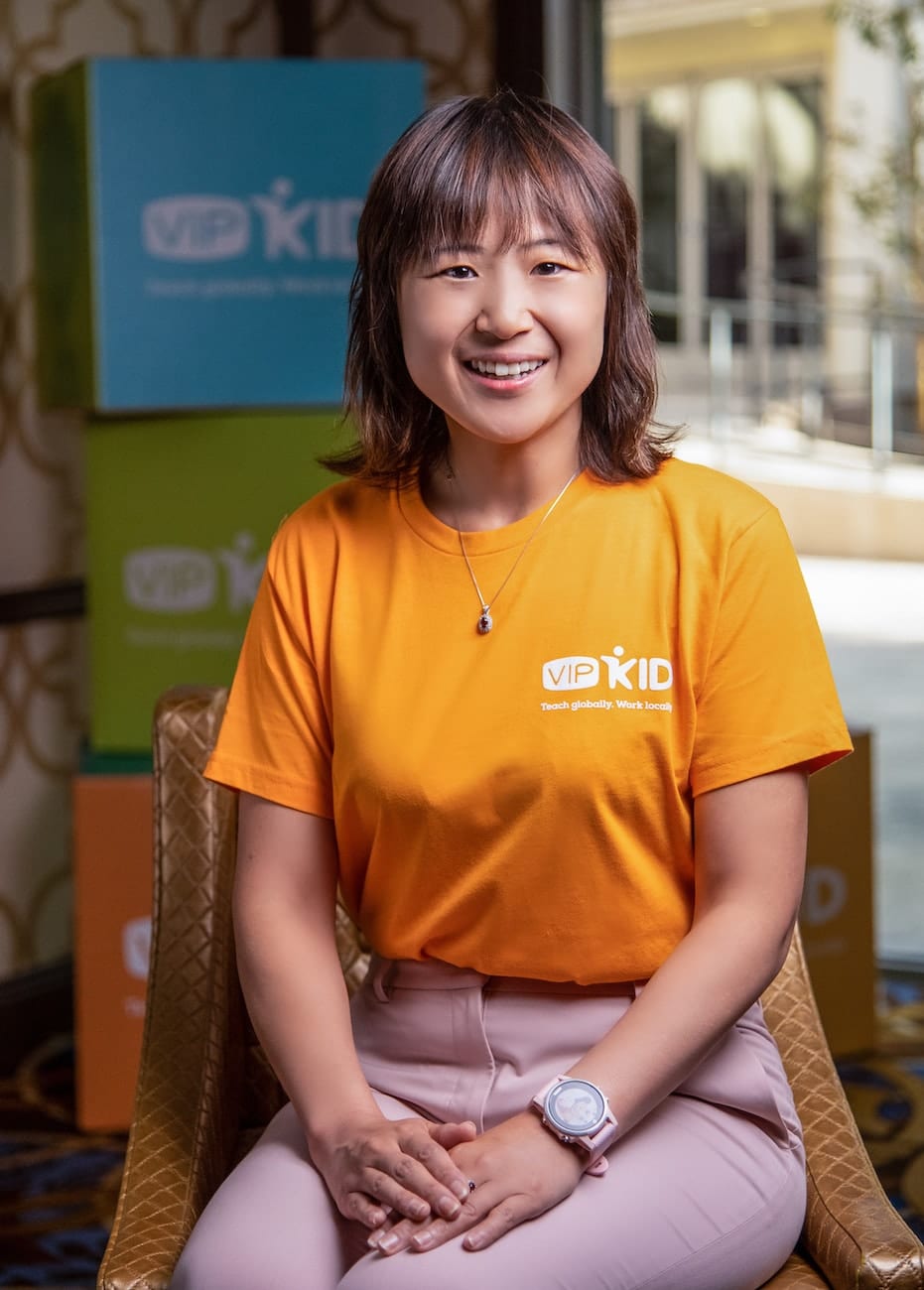 Meet Cindy Mi, the 35-year-old founder and CEO of the online teaching platform VIPKid, who's bringing new life–and considerable business savvy–to the bootstrap stereotype.
Hailing from the northeastern region of China, Cindy developed an early passion for all things English. Books, magazines, comics, newspapers: she read it all. And it worked. By the age of 15, she found herself tutoring her peers in English, even as she chafed at the inflexible nature of the traditional Chinese education system. In particular, Cindy remembers a math teacher who wouldn't call on her or explain concepts when she had questions. This led Cindy to hide magazines inside her textbook to read in class. Once her teacher caught her reading a sci-fi magazine and tore it into pieces, then threw her out of the classroom.
Still, Cindy's early proficiency and passion for English catapulted her toward a career path she had never envisioned. Down with the old, tired, and broken system of education, she thought. Maybe there was a different path: one where technology, education, and English all worked together. 
The Successful Dropout 
Weary of the assumption that quality English instruction was the stuff of dreams, Cindy dropped out of school at the age of 17 and immediately founded a chain of English academies alongside her uncle. That chain–ABC English–would expand all over China.  
But even after her success in the world of brick-and-mortar tutoring centers, she felt something was missing. With firsthand knowledge of the huge demand for quality English instruction in China, she realized physical classrooms could only go so far. 
Her answer? Return to school, earn an MBA from a top-tier Beijing university, and start an online teaching platform that would revolutionize the way Chinese students learn English. 
In 2013, Cindy pitched the idea of teaching English online to Sinovation's Kai-Fu Lee. Just over a year later, she and her compatriots had a working platform. Enter VIPKid.  
Changing the Game 
VIPKid matches Chinese students with native English speakers for real-time instruction. The idea is simple: native speakers make the best language teachers, but they're often separated from students by thousands of miles. Use the Internet to connect students with teachers and everyone wins. 
Students use VIPKid to schedule 25-minute classes with their teacher. The teacher, in turn, works from a set of established curricula based on Common Core standards. The teacher presents their lesson directly to the student in a one-on-one video chat. Both parties can communicate back and forth, share feedback, and ask questions. 
With a single keystroke (and, well, years of business planning), Cindy solved the problem of English education in China. An entire generation of Chinese youth now has access to quality, affordable English instruction via a medium designed to accommodate both parties.  
VIPKid's Meteoric Rise 
Cindy's brainchild found its legs in October of 2013. Within three years, VIPKid's total revenue exceeded $300 million. A cool $500 million funding round (at a staggering $3 billion valuation) in 2018 showed the world that Cindy had effectively cornered the market on online teaching.  
Numbers continue to rise, but as of March 2019, nearly 70,000 teachers work directly with over 500,000 Chinese students. These are promising numbers, especially when one considers that VIPKid taught only 3,000 students in 2015.  
A Philosophy of Caring 
Despite VIPKid's rapid growth, Cindy's underlying philosophy remains the same. Quality, she says, is the sole metric on which her teaching platform is built.  
"What keeps me up at night is not growth, it's quality," she says. Her dedication to her company hasn't slowed, and if users are any indication of the platform's quality, her success should not come as a surprise. 
Indeed, Cindy's philosophy speaks to a broader set of changes she wants to embody. Efficiency, not time spent, should be the focus of quality instruction. Parents want what is best for their children–and their wallets. If two 25-minute VIPKid sessions accomplish the same as a week's worth of in-class time, everyone wins.  
Following her Instincts to Success
Cindy Mi's success story is both typical and atypical. Like some Silicon Valley wunderkinds, she followed an early passion along an unconventional path, and turned her personal dissatisfaction with the status quo into an innovative business plan. She also earned an MBA and the chance to pitch her idea to one of the world's most notable funders (Sinovation's Kai-Fu Lee). But it's also important to remember where she started: as a high-schooler–living 1500 miles from Beijing and oceans away from Silicon Valley–reading sci-fi during math class and thinking, there's got to be a better way to reach students.
—
Dane S is a freelance writer who writes about lifestyle and travel. When he's not riding around sunny Southern California, Dane can usually be found typing away furiously on topics including educational technology and finance.