When Ablorde Ashigbi left Pritzker Group Venture Capital to build his own company, 4Degrees, in 2017, everyone around him was surprised. "You're leaving VC? The best job on earth? Why the hell would you do that?"
Before 4Degrees, Ablorde had never thought about being an entrepreneur. "Building a company is really hard, and the rate of failure tends to be high. You should only do it if it's something you're really passionate about, or if you just can't not do it," he says.
For him, and for 4Degrees, helping people build strong professional relationships is the driving force. He has witnessed the importance and power of networking firsthand–in his work experiences in the consulting and venture capital realms–and within his West African immigrant family, who came to America with very few professional connections.
"There's no more important asset in today's modern economy than your network, and so many industries are incredibly relationship driven," Ablorde explains. 4Degrees is a startup with a vision to equalize opportunity by enabling people to build stronger professional relationships with the help of artificial intelligence.
By plugging into communication and social channels, 4Degrees helps professionals understand who they and their teams know–and how well they know them. The app scours relevant information about the people in your network and provides pointers on how to reconnect with them, helping a team manage their leverage and optimizing connections for business purposes. In plainer terms, 4Degrees' website explains, "Our platform identifies the right connections for you to focus on, works with you to strengthen those relationships over time, and helps you activate your network when you need it."
Having been featured on Chicago Inno and Crain's Chicago Business, 4Degrees is now providing services to professional teams in four verticals: VC & PE (private equity), real estate, recruiting, and M&A/IB (mergers and acquisitions/investment banking). Their clients have been growing in double digits monthly, a rate that the team and Ablorde himself are excited about.
An Idea Based in Experience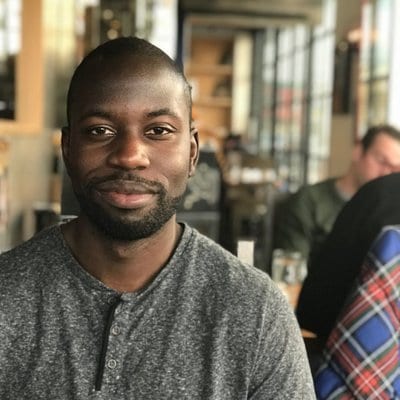 From a young age, Ablorde was aware of how a lack of professional connections can limit what one is able to accomplish. "Many members of my broader family had very little in the way of professional connectivity. They are all capable, smart and talented people, but a lot of them haven't had the level of professional success that you would expect, given their levels of talent," Ablorde explained.
His own career path stands in stark contrast to those of his extended family. Relationships are everything in his professional life. Ablorde's first job out of college was at global management consulting firm Bain & Company, and the only reason he even knew what consulting was was because one of his close friends–an intern at Bain–introduced him to a program designed to give minority college students early exposure to consulting careers.
As a consultant, and later, a venture capitalist, Ablorde's daily work was infused with relationship-building, or searching for connections who had some specific area of expertise. During this time, he found it difficult to manage and track all of his connections.
How come that there aren't many good products and technologies that help professionals manage and get value out of the connections? That question was the start of 4Degrees.
Ablorde and his co-founder (and co-worker at Pritzker), David Vandegrift, decided to codify what they've learned in their work about building and maintaining relationships into a product that would help others–in a way that's easier and more convenient. For example, 4Degrees can detect trip schedules and surface people in your network who are based in that travel destination, offering an opportunity to reconnect. This function came from both founders' own experiences.
Relationships Make It Possible
After working on a prototype most nights and weekends while continuing their work at Pritzker, Ablorde and David decided to devote their time and energy to 4Degrees full-time in 2017. They went to Techstars Chicago, one of the best-known startup accelerators.
The experience was extremely valuable not only because of the $120,000 investment they received, which enabled them to expand their team and brought in new design and engineering talents, but also because of the relationships they were able to build through the program. "We were blown away by the level of mentorship and support from some of the best operators, builders, and investors in the world," Ablorde wrote on Medium that year. What's more, their first customer was introduced to them via a mentor they met during Techstars. For Ablorde, that was the first big milestone for the company.
In fact, there are a lot more milestones for 4Degrees that sprang from the network Ablorde and David had cultivated. Their first hire was referred to them by a friend, and their first few investors, like Pritzker Group and R41 Capital, were people they'd either worked closely with or considered strong professional acquaintances from their prior jobs.
Inside the office, Ablorde and David also work to build great professional relationships within the team. The company has a lot of traditions, from practical check-ins like weekly 1:1s and feedback meetings, to more unique gatherings like weekly tech talks and monthly team dinners. There's also a flexible work-from-home policy that enables team members to accommodate various life events as they see fit. "In my view, the best teams not only work towards a mission, but work for each other," Ablorde said.
Building on that, Ablorde says that if he had to give future entrepreneurs one piece of advice, it would be to invest in relationships. "Figure out ways to both deepen the existing relationships you have, and to meet new people. There are lots of ways to do this–publishing online, attending events and meetups, hanging out with others who share your passions, reconnecting with old friends, using software… Pick some combination of ways that are authentic to you and go!"
The Future of the Journey
For Ablorde, 4Degrees still has a long way to go, but he's determined and eager to continue the journey. "There were different points in time where it became clearer and clearer that we were building a product that people valued and wanted," Ablorde said. In the short term, the company will focus on the four verticals it currently serves, but will definitely be addressing a broader set in the long run.
4Degrees also strives to stay close to their customers. The team conducts a number of customer interviews every week and keeps track of several engagement metrics to make sure that their customers are truly taking advantage of and enjoying their product.
In conclusion, Ablorde reflects, "Nothing is simple, from getting the right people on board to ensuring that you can build the company sustainably and rapidly. But seeing customers be really excited about what 4Degrees is doing, and seeing team members grow and advance their own skill sets, and seeing how this plugs into their own ambitions, it's all of those things that make the journey."