In the previous two articles in this series, we covered creating a marketing strategy for your startup as well as writing different types of content and finding effective distribution channels for your posts. In this article we will cover creating two other kinds of content—video and images—that can establish your startup's reputation and brand as well as help you become part of the dialog with your customers. Keep in mind that the goal is to provide potential customers with informative content that will be helpful to them while solidifying your expertise and building trust within the community.
Creating images, photos, and infographics
The two biggest advantages that images have over other content types is that they can be extremely engaging due to their visual nature and are fast to consume unlike long-form article for example. At the same time, the challenge usually is that this medium might not fit your startup's brand, particularly those focusing on enterprise clients. Imagine, for example, what photos might be appropriate for a startup that provides cybersecurity for large corporations. Not so easy, right? Perhaps infographics might be a bit more appropriate for this crowd. On the other hand, startups that tailor more to the individual consumer will likely find that images can adeptly capture their customers' imagination.
Images and photos are a perfect fit for some types of startup including ones that are in the beauty, apparel, accessories, home goods, and travel verticals. For example, startups that are in the apparel space can create photo series providing their audience with fashion inspiration or tips. Likewise, startups in the travel space often do well sharing photos from captivating destinations and hotels. Sure, those photos are entertaining, but they can also be useful in helping people choose their next travel destination.
Unlike photos, infographics are a very fitting format for corporate and business audiences by allowing startups to provide important and tactical information in a fun and easy-to-consume way. In fact, a recent survey suggested that infographics are the most engaging type of visual content. The main challenge with infographics is having the skill set and time to create good ones. Unlike snapping a pic with your iPhone, pulling together the data and designing an infographic can easily take a full day. One way to short-cut the process is to create a few design templates that can be populated with various statistics and copy leaving you to focus on research and writing.
Short- and long-form videos
Similarly, videos can be a phenomenal way to reach your audience and provide valuable content to them. Not only that, this medium is a lot more appropriate for corporate or business customers in the sense that one can employ video for tutorials, guides, and other kinds of tactical learning. The biggest challenges with videos are creating and editing them. However, the format and audience dictate how polished your video should be. Videos can be short and organic (unpolished) or long and professionally produced. The main decision point is choosing the right format for your startup.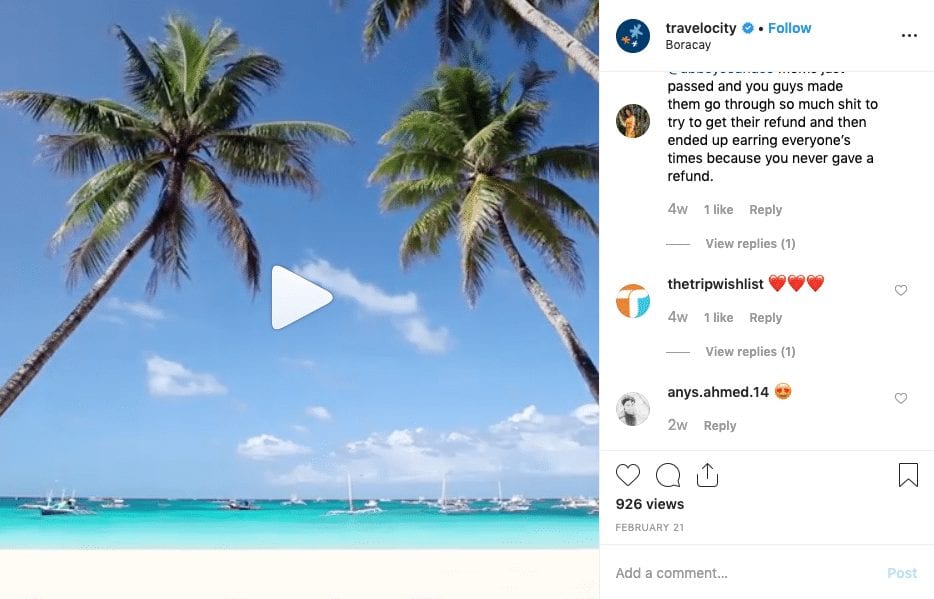 The short-form video is a more flexible format that allows creators to quickly and easily publish their content. They can be both fun and informative ranging from inspiring travel videos to tactical business tips. As far as distribution goes, the most popular channels tend to be social media platforms such as Instagram, Pinterest, Facebook, and Twitter. However, these platforms are flooded with content, so you'll likely need to publish new videos on a daily or weekly basis.
Long-form videos tend to target audiences looking to learn or to get in-depth tactical advice. Longer, more professionally edited videos are perfect for delivering informative and engaging content to your audience. One of the best examples of a startup using long-form videos that are on-brand and highly valuable is Wistia. It's no surprise that Wistia does such a great job with video-based content marketing given that they make video software for businesses. So if you're looking for inspiration, check out their YouTube page. However, your long-form videos don't have to be as professionally-produced as Wistia to be super attractive to your audience; what matters most is the quality and insightfulness of the information you are providing.
Viable distribution channels for long-form videos are few with YouTube taking the top spot and Vimeo also in the running. However, some social networks and social media platforms do allow for slightly longer videos as well. Here is a list of common channels for both short- and long-form video distribution with duration limits:
Because quality long-form videos are more difficult to produce, there is also less competition in this space, so the cadence does not need to be as frequent. What is most important is how informative and useful your videos are. Given a choice between one truly valuable video per month or one mediocre long-form video per week, I personally would go with quality over quantity recognizing that the dynamic is different for short videos.
Up next
Tomorrow, we will cover creating a podcast as a distribution tool for your startup. Please make sure to leave comments or questions below, and share if you found this article helpful.